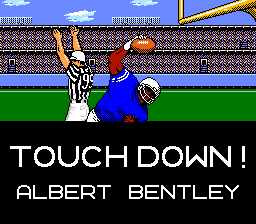 Little is known about Albert Bentley. Bentley was one of those players who never really amounted to much in the NFL. After Eric Dickerson went down with an injury and missed most of the season in around 1990, Bentley stepped in and had a respectable year ammasing nearly 1000 total yards rushing and recieving. When Dickerson left Indianapolis soon after, Bentley's playing time increased significantly, however an injury seems to have ended his NFL career.
Despite the hazy facts on his real life career, Albert Bentley is a Tecmo Super Bowl legend. Bentley had attributes that although were not spectacular, they were much higher than what he deserved. Bentley has a 44 on maximum running speed, which does not put him among the Tecmo elite, but combine this with his spectacular 63 on receptions and Tecmo suddenly created a monster. Add this to the fact that Bentley was the focal point of his team since he played on arguably the worst team in the game, the Indianapolis Colts, and Bentley suddenly becomes one of the more important players in Tecmo Super Bowl. Each game the Indianapolis Colts' hope of winning lies square on Albert Bentley's Nintendo shoulders.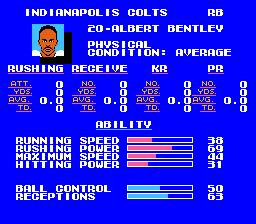 Since he is the feature back on the Colts and is gauranteed nearly all of their carries he piles up a decent amount of rushing yards. Bentley is also a threat for around 800 yards recieving a season as well. This becomes one of the most interesting thing in Tecmo Super Bowl, as his rushing and recieving stats put him not only among the league leaders in total yards, but also among the league leaders in total touchdowns as well. Indianapolis Colts fans can thank Tecmo for inexplicably making Albert Bentley's talents out of proportion.